Business Directory
Food Matters
Business Name:
Food Matters
Long Business Description:
Food Matters: You Are What You Eat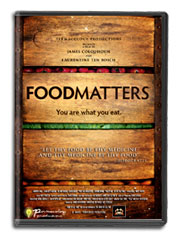 This is how Laurentine and I came up with Food Matters. If we couldn't get my father to read about nutrition and natural health, we figured we could probably convince him to watch a film on the subject. We had researched many of the films that existed on the topic. Although many were good and some were excellent, we weren't convinced that any of these films would win over my father. Let's face it, the alternative health industry has a bit of a bad reputation. When most people picture a natural therapist, they envision a man or a woman in sweatpants or a dashiki spinning crystals in his or her backyard. They certainly don't picture a doctor who can help them get better. And Roy was no different. We knew he needed to see natural health in a new light. So we decided to make a film that would restore the image of the wonderful men and women who, through their life-changing work, live up to Hippocrates's famous saying, "Let thy food be thy medicine and thy medicine be thy food."
We invested our life's savings into making Food Matters. We bought some film equipment and traveled around the world—from Holland, Laurentine's home country, and England to the East and West Coasts of the United States, and then Australia—to interview all of the doctors, nutritionists, scientists, and wellness experts we had been studying throughout Roy's illness.
After our second month of filming, we brought the raw footage to Roy, telling him we weren't leaving until he got well. We were on a mission, and no one could stop us—not even Roy or his team of doctors. As a family, we watched the unedited interviews. Before long, Roy was hooked. What stood out, he told us later, was the story about one of his many medications and how it often caused suicidal thoughts. This was Roy's worst fear. He couldn't believe the pharmaceutical and medical industries would knowingly produce and sell a product that could potentially cause people to physically harm themselves. Not only was modern medicine's better-living- through- chemistry approach not helping, it was making him worse. Almost immediately, he went from believing in the medical profession to believing in the age-old adage "You are what you eat."
Please do check out the content on the Food Matters website - they have some great stuff
Send Message to listing owner
Please
log in
to be able to send messages to the listing owner.