Business Directory
Cleaning Products
6108
WHY HEALTHIER WATER?
Do you often wish that your body would perform at higher optimal levels than what they currently are?
What you are drinking could be affecting your health!
Your body is made up of approximately 75% water. In order for your organs to function properly and more efficiently you need to hydrate your body regularly.
Healthier Water is delicious water created from Enagic's innovative water technology. Not only do these devices filter your tap water they also produce ionized alkaline and acidic waters through electrolysis. These waters can be used for various purposes, including drinking, cooking, beauty, and cleaning.

IS TAP WATER ANY GOOD?

Tap water is a healthier option than soft drinks. However according to the Environmental Working Group, there have been 315 pollutants found in America's tap water since 2004 and over half of these pollutants are completely unregulated and can legally exist in any amount.
At the current levels of contamination, the public is starting to question the quality of tap water and wonders if it is safe enough to drink. Based on these facts, it's no wonder that the demand for Kangen Water® is constantly increasing.
In Australia we still have fluoride in our water, something which many people are now waking up to and don't wish to consume and so they are looking for healthier alternatives.
AM I BETTER WITH BOTTLED WATER?
Bottled water is not necessarily healthier than tap water and yet it costs much more! Although associated with healthy water, bottled water is not guaranteed to be any healthier than tap water. Often the only difference is the added minerals which have no proven health benefits and even after completing a pH test bottled water was found to be more acidic than tap water.
A four-year study by the Natural Resources Defense Council shows that 1/3 of the bottled water tested contains levels of contamination which exceed allowable limits. Bottled water can also be slightly acidic, which may affect your body's pH balance. Finally, the environmental impact caused by the production and disposal of plastic bottles is harmful to our ecosystem. If you consider all these factors you would start to question whether bottled water is any good at all.  Also consider the recycling factor on the bottom of plastics too – now that's another whole conversation all together.
SURELY REVERSE OSMOSIS IS BETTER THEN?
Reverse Osmosis is a filtering process which may be effective in areas that do not receive municipally treated water and is commonly used in bottled water facilities. The problem with this process is that dangerous chemicals like pesticides, herbicides, and chlorine are molecularly smaller than water and can pass freely through the filter. Test this type of water with a pH test compared to all other waters too.
Reverse osmosis removes healthy, naturally occurring water minerals. These minerals not only provide good taste, they also serve a vital function in the body's system. When stripped of these minerals, water can be unhealthy. Also, 2-3 gallons of water are wasted for every gallon of purified water produced.
WHERE DO I START THEN?
There seems to be so many conflicting stories about what is the best water to drink. When we started out, we took the first initial steps of using filter jugs, it wasn't the best option however it was better than straight tap water. As our knowledge and understanding grew, we decided we wanted more and better options.
It was when we got introduced to the Enagic Kangen machines that we really started to notice the benefits to our health. The next step for us is to obtain the Anespa shower unit and also to include a fluoride unit to our machine. So just do what feels right for you at this point in time. You can always upgrade as your knowledge and finances allows.
La Balsa Business Centre - Level 2
208/45 Brisbane Road
Mooloolaba QLD

4557
Food Matters: You Are What You Eat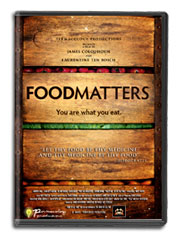 This is how Laurentine and I came up with Food Matters. If we couldn't get my father to read about nutrition and natural health, we figured we could probably convince him to watch a film on the subject. We had researched many of the films that existed on the topic. Although many were good and some were excellent, we weren't convinced that any of these films would win over my father. Let's face it, the alternative health industry has a bit of a bad reputation. When most people picture a natural therapist, they envision a man or a woman in sweatpants or a dashiki spinning crystals in his or her backyard. They certainly don't picture a doctor who can help them get better. And Roy was no different. We knew he needed to see natural health in a new light. So we decided to make a film that would restore the image of the wonderful men and women who, through their life-changing work, live up to Hippocrates's famous saying, "Let thy food be thy medicine and thy medicine be thy food."
We invested our life's savings into making Food Matters. We bought some film equipment and traveled around the world—from Holland, Laurentine's home country, and England to the East and West Coasts of the United States, and then Australia—to interview all of the doctors, nutritionists, scientists, and wellness experts we had been studying throughout Roy's illness.
After our second month of filming, we brought the raw footage to Roy, telling him we weren't leaving until he got well. We were on a mission, and no one could stop us—not even Roy or his team of doctors. As a family, we watched the unedited interviews. Before long, Roy was hooked. What stood out, he told us later, was the story about one of his many medications and how it often caused suicidal thoughts. This was Roy's worst fear. He couldn't believe the pharmaceutical and medical industries would knowingly produce and sell a product that could potentially cause people to physically harm themselves. Not only was modern medicine's better-living- through- chemistry approach not helping, it was making him worse. Almost immediately, he went from believing in the medical profession to believing in the age-old adage "You are what you eat."
Please do check out the content on the Food Matters website - they have some great stuff
1147 South Pine Road
Arana Hills QLD
4054
Creating cleaning products for my own home that worked well and weren't harmful to my family or the environment was important to me. I wanted a way to rid my home of harmful chemicals and found that going back to basics was actually the way forward.
Researching traditional cleaning methods resulted in the development of 9 products that clean every surface in your home. Using proven ingredients like BiCarbonate Soda, Citric Acid, Soap Flakes, and Essential oils such as "Lemon Myrtle" (the environment's very own antibacterial weapon) my cleaning products will naturally clean your home with amazing ease.
Find out how easy it is to have a sparking home that smells great and remove the nasty chemicals forever.
So join the revolution and make your home an 'OurEco Home'
 Thank you for making the change and Happy Cleaning.  
Kind Regards